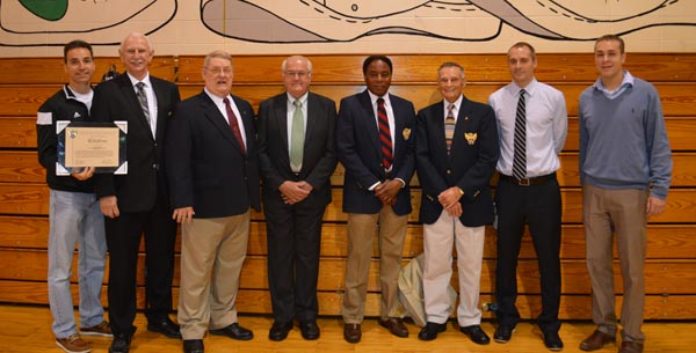 Science, technology, engineering and math coach Ben Barkey received an award today for his contributions to Washington STEM Academy and Warsaw Community School Corporation.
John Peyton, vice president of aerospace education for L.D. Bell Museum Chapter 411 of the Air Force Association, presented the Teacher of the Year Award to Barkey during a school assembly this morning.
Barkey received a $250 check, certificate of excellence, Chapter Teacher of the Year pin and a complimentary membership to the Civil Air Patrol Aerospace Education Membership.
Barkey said he was honored to receive the award and has served as the STEM coach at Washington for the past 3-1/2 years. He was a science and math teacher at Edgewood Middle School for nine years.
"I am very honored to receive this award. It is a culmination of staff and students at Washington and the principal," Barkey said. "It is humbling to receive this award on behalf of everybody."
Peyton said Barkey received the award for his leadership.
"He not only teaches children science, technology, engineering and mathematics, but also teaches teachers to teach those subjects and coordinates their effort," Peyton said.
Tom Ray, Washington principal, said Barkey has assisted with moving STEM education forward in the corporation.
"Ben is very knowledgeable with STEM and working collaboratively with teachers in the corporation to look at literacy and how STEM and literacy can go together to create opportunities for students to learn in a fun, creative hands-on way," Ray said.
The AFA is dedicated to ensuring America's aerospace excellence and encourages the teachers that carry this mission in the classroom. AFA supports kindergarten through 12th-grade teachers who specialize in science, technology, engineering and mathematics.
The purpose of the program is to recognize classroom teachers for their accomplishments and achievements in exciting kindergarten through 12th-grade students about STEM subjects and preparing them to use and contribute to tomorrow's technologies.
Also during the assembly, Dr. Charles Hassel, Indiana Airforce Association state president, presented Ray with an award for his support for Barkey.