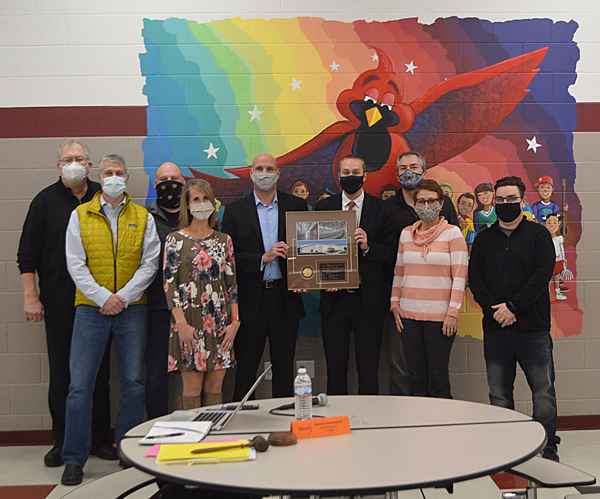 Warsaw School Board was updated on the 10-year facility study during its meeting Monday.
It is something the school district has revamped every year, Superintendent Dr. David Hoffert said.
Hoffert went over the priorities from the study, as well as informed the school board on some facts about WCS.
When it comes to background for planning for the school corporation's buildings, Hoffert said this is the 176th year for Warsaw Community Schools. There are eight elementary schools, two middle schools, one high school and one career center serving approximately 6,000 students.
A school system doesn't get to the point where there is nothing left to do with the buildings, Hoffert said. "Instead, Warsaw Schools, with the size we are, we should always be involved in some sort of upgrade, renovation, maintenance that is going on a year-to-year basis."
There are big costs that goes into maintaining the buildings, and costs upfront are cheaper than costs down the road, Hoffert said. With projects, WCS doesn't want to wait too long to do them as WCS has found buildings decay very quickly and there are high costs that go into that.
Chief Financial Officer April Fitterling said it's important to prioritize projects and costs and keep the tax rate stable. "We're looking forward constantly," she said.
One of the priorities in the facility study is updating classroom spaces, such as carpet, paint, lighting and ceilings, Hoffert said. Another priority is  removing "temporary" walls in Warsaw Area Career Center, Hoffert said.
Updating classrooms at the high school is another priority. Hoffert said approximately 30 classrooms were updated last year.
Another priority is making a main entry or welcome point at the high school. Hoffert said there are 54 doors at the high school. When the high school was built, WCS wanted people to come in through various doors. One of the things the facility study prioritizes is making one centralized place where the public comes in, as a safety precaution.
In other business, Madison Elementary Principal Ben Barkey highlighted Madison's Leveled Literary Integration program. The program is for students who are reading below grade level to get them to read at grade level.
Barkey said it is an 18-week program and students who enter the LLI program cannot leave the program unless the 18 weeks are over and they read at grade level.
"This is a half-year commitment, so typically, this means it is a full-year, full-year-and-a-half commitment to get some of these kids caught up," Barkey said. Some of the things the program focuses on is phonetics, fluency and comprehension.
This year, Barkey said Madison had 14 students that were reading significantly below grade level and more "kids slightly below." Historically, the school has had about four students a year reading significantly below grade level.
Barkey said there are four teachers for the program.
The program is able to help 35 students in the 18-week program. In first and second grade, they're focusing on the students who are reading slightly below grade level. Twenty-one of those students at Christmas time graduated out of the program, which opened up 21 slots for other students who are struggling to read a grade level.
In other business, the school board:
• Learned the school corporation is down approximately 30 to 50 students due to early high school graduation.
• Approved the continuance of COVID-19 pay through March 31.
• Approved a $1,000 transportation sign-on bonus for new full-time bus drivers for WCS, effective today. Fitterling said new bus drivers would receive $500 after they get their license to drive a bus and $500 after they drove 50 hours.
The driver would have to sign a memorandum of understanding that if the driver left the corporation within a year of employment, they would owe the bonus back to the corporation. Fitterling said WCS is looking for a maximum of 10 drivers.
Fitterling said WCS is offering the bonus because the transportation department is down bus drivers and has had to consolidate bus routes and "we've consolidated as much as we can."