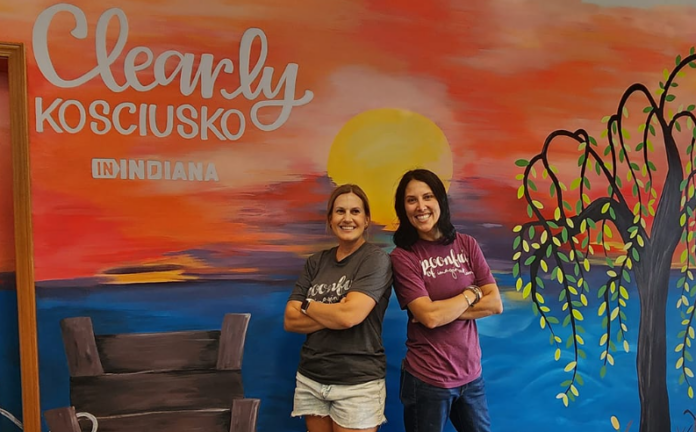 By Dan Spalding
News Now Warsaw
WARSAW — The newest mural in Kosciusko County was unveiled Tuesday at the convention and visitor's bureau along US 30 in Warsaw.
The interactive artwork encompasses an entire interior wall inside the visitor's center. 
The lakeshore scene is designed with selfies in mind and includes the clearly Kosciusko branding. An Adirondack chair from Pollywood will be positioned along the wall so that visitors can capture their images in front of a colorful lake scene.
Executive director Cori Humes was thrilled to have a large crowd packed inside the lobby of the Kosciusko County Convention & Visitors Bureau Visitor Center for a ribbon cutting with the Kosciusko Chamber of Commerce.
"We were trying to add more art to our community and something at the visitor center," Humes said. "Since we didn't have space outside, that's why it's inside."
"It's just another way to engage our visitors and residents in the county of why Kosciusko is a great place to be," Humes said.
Artists Erica Deuel and Beth Williman, of Spoonful of Imagination, were given the chance to do the project.
Williman said using a lakes theme was an obvious choice.
"I think that's what brings people to our community," William said. "I know that's what i love about our community or lakes. It's the beautiful part of living here."
The project was funded with an Art Activation grant through the state.